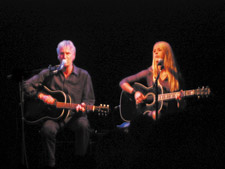 Steffen Brandt & Tina Dickow.

What to do with the day before the days? We have chosen to use our day – Thursdag the 29 of May - to present three very different acts in a Pre-SPOT arrangement at the Concert Hall Aarhus: Steffen Brandt & Tina Dickow, Under Byen presented by David Fricke and the warm & crazy Swedes Oscar Danielson & Daniel Bingert.

- - -

At the Concert Hall Aarhus we look forward to meeting the audience and the guests for three concerts, that will illustrate the aim of the SPOT Festival, and also give us a sample of ROSA's activities and the music we are working with.

Introduced by ROSA's manager, Gunnar Madsen, we present: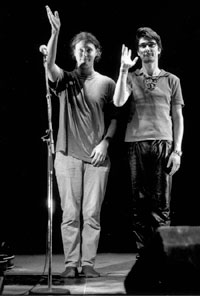 Oscar Danielson & Daniel Bingert.

Original music, poetic humour and neighbourliness in the shape of Sweedish Oscar Danielson and Daniel Bingert.

Danish song writing, presence, depth, courage and validity on the stage by Brandt/Dickow.

Originality! International talent! Under Byen! Presented with international weight by music journalist David Fricke from American Rolling Stone Magazine.

The day before the days will be an unusual day – and it only lives once!

(Look below for further presentation).

Thursday 29 May 20.00 – The Concert Hall Aarhus
Tickets: DKR 100
Pre-sale: The Concert Hall Aarhus (+45 89 40 40 40) and BilletNet.

- - -

Steffen Brandt & Tina Dickow

- Two contrasting personalities – complementing each other

Steffen Brandt is the experienced, much appreciated interpreter of his time and head of the rock band TV-2, that after decades at the top of the scene is still going strong and enjoys tremendous respect with the Danish audience.

Tina Dickow is the young, serious song writer, who with English as her musical mother tongue defines her life as a young woman in a complex society – and who is currently working on her international break through.

Together, they have created a musical team work, which has been very inspiring for both parts - and the ones listening.

It all started, Steffen Brandt says, when he heard Dickow sing his own song "Alt hvad hun ville var at danse" at a festival concert in Kerteminde, and at a later performance by him at one of her concerts:

- Therefore, it is quite natural to develop a team work giving room for more concentration, like when only two people, two guitars and some songs are doing the job, says Steffen Brandt, who declares Dickow to be one of the most talented new Danish song writers. She gives the Brandt-songs "new dimensions and surprising conclusions" – and Dickow's own songs "reveal a knowledge of matters that she really shouldn't have access to, considering her position at the very beginning of life".

As for Tina Dickow, she claims that "it is a giant experience to work with a song writer of Steffen Brandt's calibre, who has an almost inexhaustible back catalogue":

- He is one of the few who can make the Danish language flourish – also when I sing his lyrics. And he is consistently Danish. He has even made Danish lyrics for one of my songs "Room with a view". Our team work has opened my eyes to the fact that you get a different kind of contact with your audience when you sing in your own language. This is something I think a lot about…"

The two of them have put together a special programme for the occasion "with focus on the songs that will force the listener to take position", says Steffen Brandt.

- There is no reason to play smart when you have only two guitars and a certain sincerity to work with…


- - -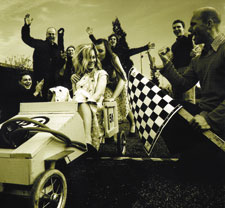 Under Byen - international potential.

Under Byen
Under Byen originate from Aarhus and sing in Danish – but this is not essential to the listeners, who let themselves be drawn into the mysterious, floating and dreamy universe of the eight-person band. It is a universe where the moods are universal, ambiguous with a strange mix of vulnerability/strength, softness/steel, weakness/willpower etc. This music has no language barriers; just look at the reception of the band abroad – e.g. the February tour in Germany and the way American music journalist David Fricke has emphasized the capacity of the band in concert as well as on CD.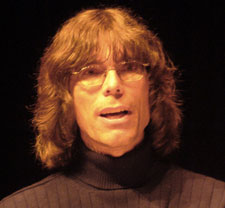 David Fricke - presents Under Byen.

David Fricke
Rolling Stone music journalist David Fricke is a panelist at the SPOT 09 Festival and he introduces the concert by Under Byen at this Pre-SPOT arrangement.
Fricke saw Under Byen at last years SPOT Festival and praised them highly. Later on, he reviewed their CD – given to him by ROSA – "Det Er Mig Der Holder Træerne Sammen" in Rolling Stone, he did not only call it "my favorit record this year" (2002, edit.) but he also declared Under Byen to be his favorite upcoming band. The many other superlatives pronounced by the famous music journalist in this connection, we leave for himself to use in his introduction.

- - -

Oscar Danielson (S)
Oscar Danielson has visited the SPOT Festival quite a while ago. After his 1999 Christmas single "Årets Märkligaste dag", he took a pause from music and wrote a book instead – a love story called "Siljans Konditori" - and received good reviews for it. In Denmark, he is known mainly for his music – some call it pop in strolling tempo with odd lyrics containing more than "girl meets boy". Danielson is now back on the streets – with an EP – and later this year with an album with the working title "Love Love Love! Oscar Danielson sjunger".

Daniel Bingert
Crazy Swede - and duo partner of Oscar Danielson – with an inclination to piano, sax, bass and whatever comes his way in the shape of more or less strange instruments. As long as he won't have to read the notes (sheet music is shit music!). Bingert is of the opinion, that you HAVE to laugh every day. He is a big fan of Marx Brothers, who is also a musical inspiration to him. Moreover, he is a conductor, producer - and many other things that we can't even begin to mention.