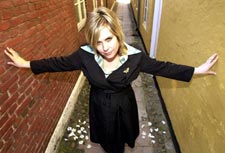 Marie Frank - Mistress of her own label.


Having released two CDs with one of the multinational companies a while ago, Marie Frank now stands alone. With the creation of her own record company, she plans to release her next six-track EP to hit the streets in May – all six tracks will be introduced at SPOT 09. Besides Marie Frank, SPOT 09 presents a lot of new electronica and new rock talents.
- - -

The SPOT 09 Festival in Aarhus on 30-31 May will be one of the very first chances to learn in which direction Marie Frank, the multiple Danish Award winner, will turn her music – now that she is "the lady of the house". Marie Frank and her band open their mini-tour in Denmark on 28 May by giving a couple of "rehearsals" before entering the stage at SPOT 09.

Another feature of the SPOT Festival is the world of electronica and its many related genres, which will be given their own stage at SPOT 09:

Friday 30 May, the electronica stage will be taken over by a set arranged by EMMA – the new local umbrella organization for the electronic musikgenre. EMMA presents Norwegian Supersilent and G-Ha and Danish Je m'apelle Mads, K.I.O.L., Jab Mica Och El, Wäldchengarten and dj Carl K. – who will bring along a couple of jazz musicians.

And Saturday 31 May, the SPOT Festival has arranged an on-going electronic show presenting Ugress (N), B&B International, Snospray, Örtz, Slowtrain and Danish-Norwegian dj-team Ben Horn - All in all, two days of electronic music from avantgarde to gameboy-electro and groovy housebeats.

Another event at SPOT 09 is an acoustic section introducing Claus Hempler, Icelandic Petur Hallgrimsson, Juncker, Catbird, Camilla Munck, Superjeg and Love Julie.
Furthermore, hip-hop duo TM & Alec Burton and band has signed up and the Fajabefa turns up with Steric, Søndag, The Alpine and one of the finalists from the LiveContest, which is taking place just now.

The musical section of the SPOT 09 programme is now almost complete. The paneldiscussions and lectures will be published within the next few weeks.