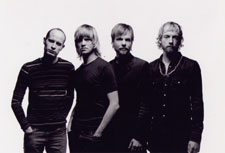 Kashmir - going to
Stockholm
after SPOT 09.

The concerts of Kashmir and Kaizers Orchestra are rescheduled to an earlier time. Last Days of April have cancelled. Glorybox are playing on Saturday and Neill C. Furio is taking part in the panel discussion.

- - -
SPOT 09 is changing and rearranging part of its programme for Friday, May 30th. This is partly due to Kashmir's request to play at an earlier time, so as to allow for their participation, the next day, at the major festival event, Stockholm Calling, with an expected audience of 30,000, and such names as Zwan, Placebo, Cardigans, and Kashmir featured on the programme. And partly because Last Days of April have cancelled their concert due to their bass player having left the band.

This has resulted in the following changes:
Kashmir will play at "Ridehuset syd" at 22:15.
Kaizers Orchestra will play at "Musikhuset" at 22:30.
Moi Caprice will play at "Ridehuset syd" instead of "Ridehuset nord" at 24:00.
Apparat Organ Quartet is postponed and will play at "Musikhuset" at 00:15.

Two new signings to the SPOT 09-programme:

Glorybox will play on Saturday, at 17:00 at "Ridehuset syd" - a Danish-American-Faroese-New Zealand band, which has found a musical niche of their own amidst a blend of ethereal rock and harmonious noise. Already at the 2000 Roskilde Festival, Glorybox delivered a much talked-about concert and with two recordings, "Vacuum" (2000), and the EP, "Pale Blue Light" (2001), Glorybox has displayed both technique and breadth in their musical and ambient capacity. Glorybox has toured in USA, Europe and Japan, and is presently working on their next album.

Neill C. Furio is joining Saturday's big "Is the Album Dead" panel discussion at the Radisson SAS Scandinavian Hotel's conference room, where Danish and international professionals and experts will discuss the future of the album –if it still has one?
Neill C. Furio is an American writer and songwriter, with an inclination towards Danish things –from a Carl Th. Dreyer films to sipping Cocio. Furthermore, he has an extensive collaboration with Marie Frank, who has included his songs, "Whoops Wrong Daisy" and "Scrabble-ina" on her new EP, "Swimmingly".