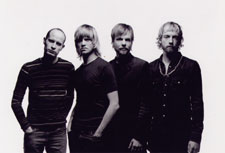 Kashmir - ready for international
attention.

Kashmir (DK), Håkan Hellström (S), Kaizers Orchestra (N) – and a number of brand new names will appear at SPOT 09. About half of the musical goodies appearing at the festival is revealed.

- - -
This year's SPOT 09 Festival is set for 30th – 31st May in Aarhus with its preliminary arrangements on 29th May. And the list of performers is growing fast.

About half of the musical programme is now ready to be revealed, and by this the organizer, ROSA - The Danish Rock Council, hope to maintain the reputation of the Spot Festivals for being a serious and substantial showcase of modern Nordic music. The aim is to embrace both the hottest new trends and the visions for the future with a focus on Nordic music, which by now is ready for much more international attention.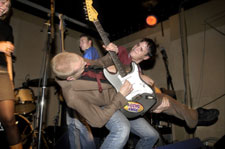 Tiger Tunes - madmen and
partyrockers.

Danish Kashmir, with a new album on the market, Norwegian Kaizers Orchestra - also releasing a CD before SPOT 09 - and the hot new Swedish name Håkan Hellström is a strong trio of Nordic acts ready for the international market.
Names like these belong on a festival like SPOT, that is well attended by the international music business and the medias.

And all the new acts like Carpark North, Luke, Slow Train, The Blue Van, Tiger Tunes, Geisha, Kira & The Kindred Spirits, Case, Pluto and many more, will have one of their first chances to introduce themselves at a major international venue.

Not to mention St. Thomas (N), Racing Ape, Mofus, Pleasure Machine, Moi Caprice, Örtz, Instinkt, Phønix, Bugpowder, Mikael Simpson, Apparat Organ Quartet(ISL), Mathias Grip and Kitty Wu. These are all part of the programme, that will be ready in about three weeks – also containing both the national and international panel discussions and debates.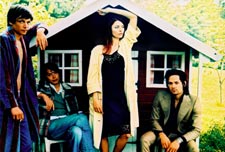 Kira & The Kindred Spirits - ready to
blow big boys brains.

The SPOT 09 Festival is set in the center of Aarhus with 5-6 stages at The Concert Hall (Musikhuset Aarhus), the Ridehuset and on the area between these two buildings, called the Officerspladsen.
The capacity of the scenes lie between 150 and 900 seats. About 2,500 paying guests are allowed to the festival and the advance booking of 2 day tickets will start on 5th March, at the price of DKK 300. At a later date, a limited amount of 1 day tickets will be available at DKK 200.